Our teaching concept is based on many years of experience in teaching (economic-geographic) globalization and development studies, but is at the same time tailored to the Bayreuth location.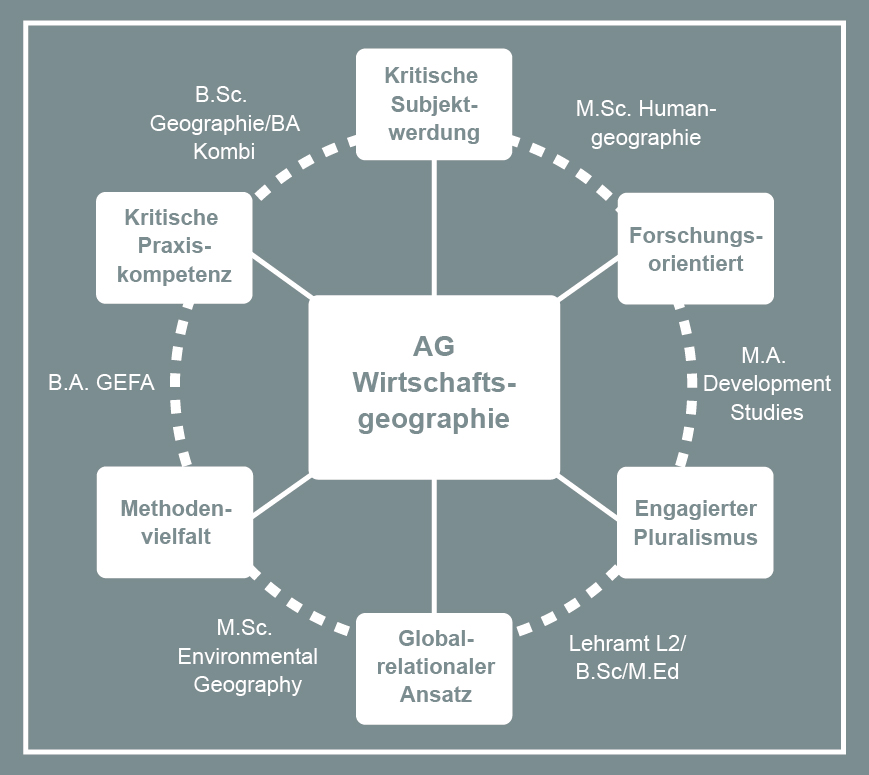 Research orientation:
Our teaching content has its finger on the pulse of social and theoretical debates. We integrate the results of our own research as well as that of our colleagues into our teaching formats. The specifics of economic geography research are deepened especially in study projects, excursions and exercises.
Pedagogy of Critical Subject:
A central concern of our teaching philosophy is a pedagogy of critical becoming a subject. This aims to familiarize students with different theoretical and practical problematizations of a topic. They should be enabled to weigh up different perspectives on topics against each other and to locate them epistemically, to lead a critical discourse and, finally, to position themselves in an informed way. In the context of borderless and conflict-ridden social conditions, this includes both learning to learn for oneself as well as learning different forms of critique.
In order to increase the didactic impact of our teaching, we promote the use of different learning, media and mediation practices according to need. A transparent and detailed design of syllabi as well as innovative examination formats are central concerns. In Bayreuth, we are particularly expanding the innovative three-phase seminar form, as it is precisely in these seminars that the connection between theoretical basic work, collective learning performance and application relevance can be particularly well established.
Engaged pluralism:
We cultivate a more committed pluralism, which enables students to locate different approaches theoretically, ontologically and epistemologically and to develop their own research projects based on these and to contribute to progressive political planning practice. The connecting element is a social and cultural theoretical foundation, which also integrates insights from political ecology and heterodox economics.
A Global relational approach:
In our teaching, we want to create awareness among students of the multiple, historically grown interdependencies between different places and regions of the world, as well as the associated unequal economic, social and ecological conditions. In a time of increasing dissolution of social boundaries, in which phenomena that were previously attributed to the Global South (or minority world) are now also to be found in the Global North (or majority world) (and vice versa) and in which we are confronted with the planetary challenges of the Anthropocene, we are particularly concerned with overcoming established ontological categories such as "North" and "South".
Diversity of methods:
The complexity of a globalized economy can only be mastered with a corresponding diversity of methods. Accordingly, a broad spectrum of different methods and their methodological foundation is taught in the economic geography we aim for. One focus is on the teaching of qualitative-interpretative, ethnographic (economic-geographic organisation research) and critical quantitative methods (critical statistics, among others). We see the spatial visualization of complex economic-geographic structures and interrelationships and the analysis of "big data" of economic-geographic character as a central challenge for economic geography in the digital age.
Critical practical competence:
Within the framework of the study of economic geography, we ensure that students acquire a healthy mixture of scientific foundation and critical faculties, as well as skills and competencies relevant to professional life. It is important to us that practical competence has a transformative character and does not fit uncritically into existing practical environments.
An example of the implementation of our teaching concept can be traced here using three story maps on the topic of global commodity chains: